Every parent celebrates their child's firsts: first birthday, first haircut, first words, first day of school. My husband, Bryan, and I are no different – except that as adoptive parents, we've crammed years' worth of firsts into the last 12 months, such as the image above: first iPad (especially helpful for children with visual impairments).
Just over a year ago, my husband and I officially became parents to Forest, then 7, and Lotus, who was 3½. Since then, it's been a torrent of firsts: first lost tooth, first words in English, first birthday parties, first family vacation, first Christmas, first trip to urgent care.
Our children, born with albinism and raised in Chinese orphanages, have changed in ways both subtle and profound over the last year. Forest, once ranked in the 1stpercentile in height and weight, has sprouted 5 inches since coming home. He loves to dance, draw and read, and he boards the school bus each morning with a gap-tooth grin, greeting his fellow passengers with a loud "Hi, everybody!"
His sister, who treated us to daily tantrums in those first several months, has now become a skilled negotiator, using her polished English to arbitrate everything from bed and bath time to how often she should be allowed to wear her princess attire, even to bed. In fact, both of them speak English like they were born here (although, Lord help us, they've got New York accents).
This first year of parenthood has been exhausting and exhilarating, insane and insanely wonderful. We've shed plenty of tears – both out of joy and frustration – and experienced more love than we ever thought possible.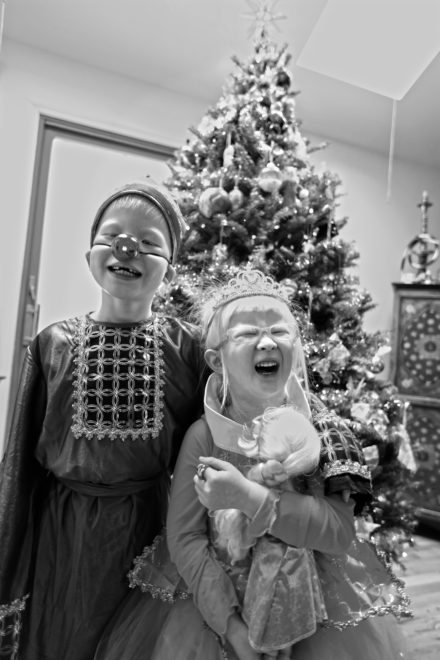 To mark the anniversary of our plunge into parenthood, I thought I'd post the story of our adoption, published on National Geographic's website in May last year to accompany a piece I did on albinism.
In many places I travel as a National Geographic photographer, I'm the conspicuous foreigner, the pale, blonde woman toting 40 pounds of camera gear. I've gotten so used to people staring that I hardly notice it anymore. But this February, when my husband Bryan and I traveled to China to adopt our two children, the sense of conspicuousness was beyond anything I'd experienced.
Forest, seven, and Lotus, three, were born with albinism and swiftly abandoned at state-run orphanages, as is common in China where the condition is seen as a crippling social and economic burden. The sight of these children with porcelain skin and striking white hair was enough to stop people in their tracks. While Forest ogled the giraffes at the zoo in Guangzhou and his sister snoozed in a nearby stroller, strangers stopped in their tracks and trained their cameras on our children. We encountered much of the same curiosity at parks, malls, and restaurants. Most were astounded to hear them speak Mandarin, having assumed these beauties were our biological children traveling with us from America.
Read the rest of the story here.