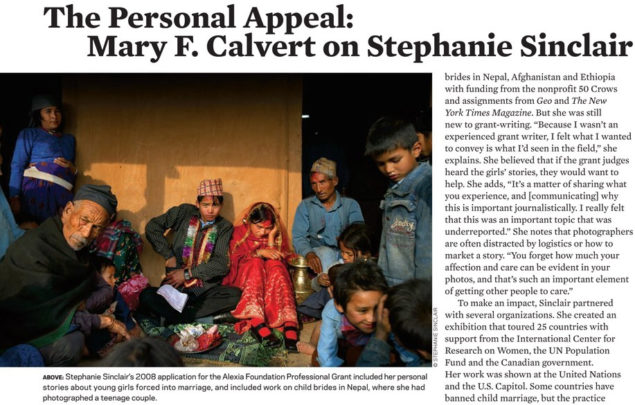 Greetings to all for 2017!
I finally got my hands on the December edition of PDN and am honored that the talented Mary Calvert very kindly mentioned my 2008 Alexia Foundation grant proposal on child marriage as inspiration for her own grant writing. Like most people who make their living behind the camera, I find writing grant proposals to be a daunting endeavor. That's why I know how important it is to find something — anything — that helps us to translate our workday ideas into the magic words that will get us that grant. In the article, Mary discusses looking for examples of successful grant writing when she was putting together her own application, which led to her astounding project "Surviving Rape in the Military" and the follow-up "Missing in Action: Homeless Women Veterans." (If you haven't spent time with Mary's project, stop what you're doing and check it out immediately.)
Despite their being more important than ever, our industry is funding fewer and fewer long-term photography projects — a trend that has been developing for years. In 2008, I had already begun my work on child marriage in Afghanistan, Nepal and Ethiopia, but knew there was — and continues to be — so much more work to do on the issue. Aside from haranguing seemingly every publisher on the planet, it occurred to me that getting a grant was the only way this project was going reach it's full potential. I still hadn't really honed in on how to most effectively communicate to grantors the horrific stories of the girls who had opened their lives to me. But with their plight never far from my mind, I refined my approach again and again and, eventually, it worked. The Alexia Foundation was one my first major grants that led me to what would, several years later, become Too Young To Wed.
It's pretty funny that, for us photographers, it turns out using the written communication skills we trained in back in journalism school would come in handy again. But that's exactly what I've drawn on in my grant writing adventures. With the industry the way it is, it's no exaggeration to say this skill is almost as important as the one we have behind the camera. As a result, it's common sense to look for help — use your resources and collaborate with friends and writers who believe in your project. In fact, I'll share a secret I sometimes tell young photographers: my best friend Edie Gross, a writer who actually hired me in 1993 at The Alligator, our school newspaper, may have been consulted (ok, bribed with chocolate) to assist with my early grant applications — including this Alexia Foundation grant. Even today, she remains an active part of our nonprofit Too Young to Wed.
Please read the entire PDN piece here.